~ MOOSE LODGE ~
Year-round cottage-style lodge unit with rustic stone fireplace. Surrounded by gardens with views
of the lake and hillside. Two bedrooms, living room with high-rise sleeper couch (two separate beds), efficiency kitchen. Moose is wheelchair accessible.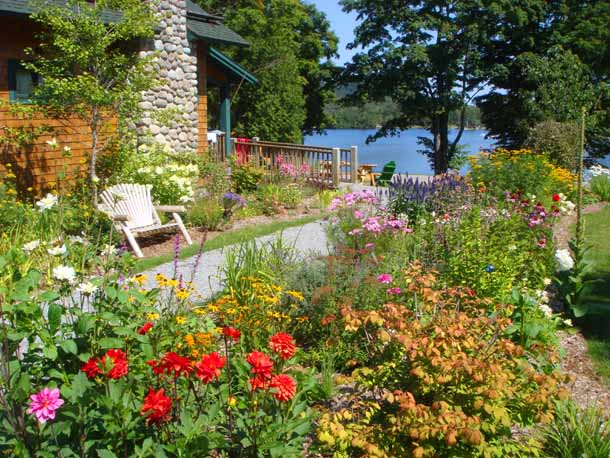 Set like a jewel within the butterfly gardens, and with commanding views
of the beach and cove, the Lodge has a glory unique in the north country.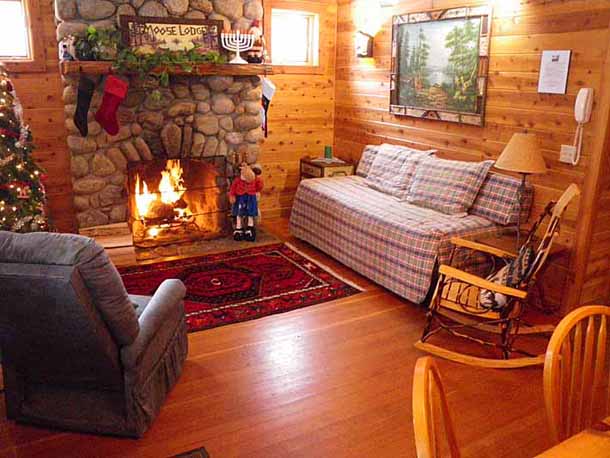 Any season of the year you'll find Moose as lovely, warm, and welcoming on the inside as out.

The doorway to another world . . .




Whether it's a cool August night, or a snowy
December holiday, there's nothing like
a fire to spark cheer and good fellowship.



Moose's fully-appointed kitchen leaves
lots of elbow room for cooking up a storm!






Her cheery table is sure to bring your family together - and probably some new-found friends on the Point as well.




The spacious bathroom (shower not shown)
is so large we couldn't fit it all into the picture!




A queen-sized bed dominates the master bedroom.



The second bedroom has two twin beds . . .

. . . and of course, plenty of light.

And the living room couch
separates into two twins.

Here's the half of the bathroom
we couldn't fit into the other picture.



Dine in in style in beautiful Moose . . .




. . . and Woops! How did that get in there?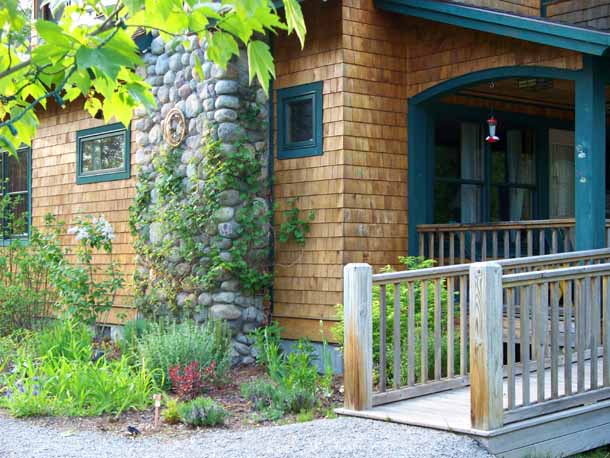 Moose emerges from the greenery as spring advances.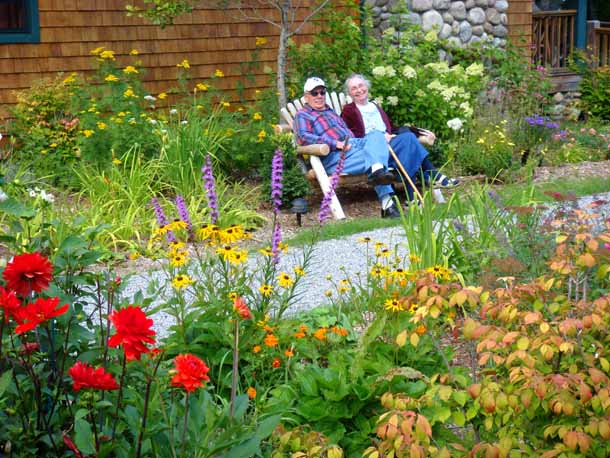 Write a poem, paint a picture, romance your sweetheart . . . live among the flowers!
At the Lodge you can do all this and more, enjoying a peace that only a garden can give.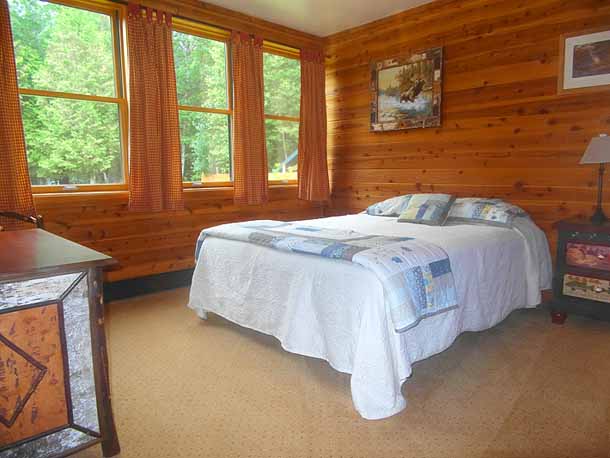 Here's another image of Moose's master bedroom . . .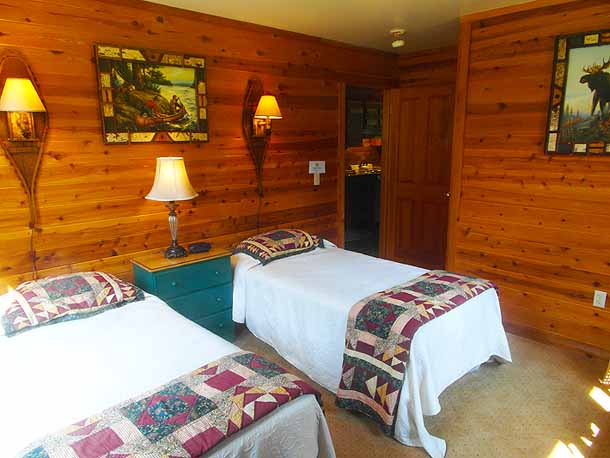 . . . and her second bedroom (which also contains a closet and a dresser).
Fine oil paintings, painstakingly rendered by hand after 19th- and 20th-century masterworks,
fill the walls and make Moose and all our cottages feel like your very own Northwoods gallery.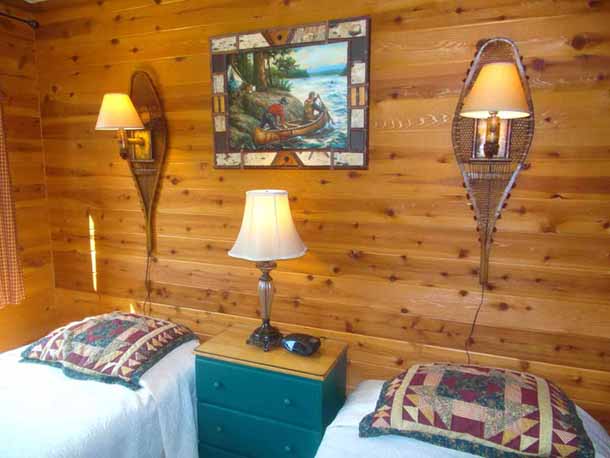 She's furnished in the true Adirondack style, where even the frames are hand-wrought
of twig and birch bark. The sconces are fashioned from old Native American snowshoes.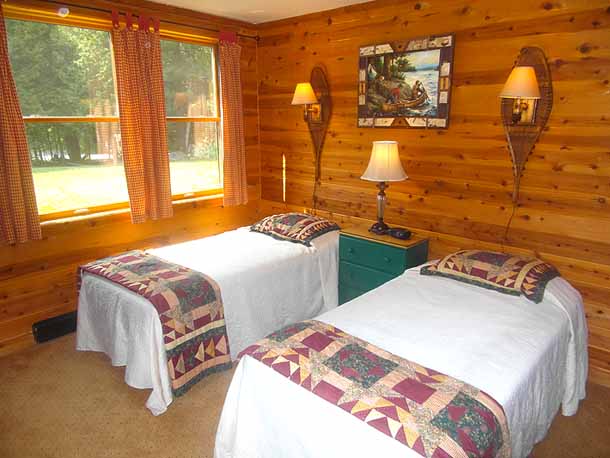 Not seen in this image, a second group of windows overlooks the glorious gardens . . .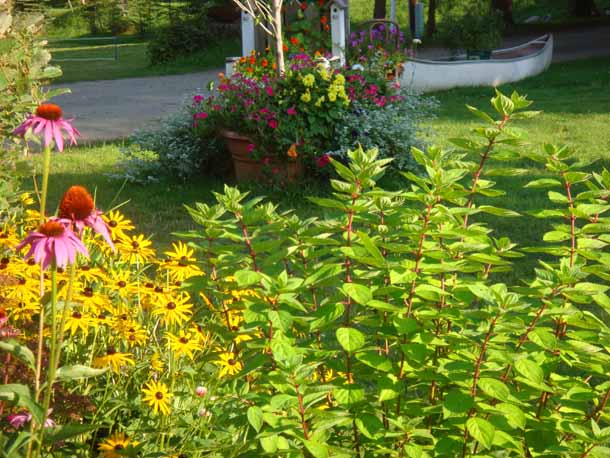 . . . which makes opening your eyes in the morning a joy to be savored!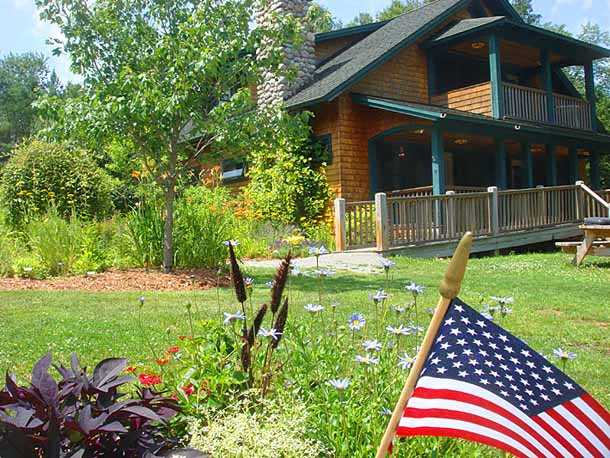 With fireplaces, fields of flowers, dazzling views of the beach
and lots of room to spread out, the Lodge is among the finest haunts in the North.
Prospect Point Cottages

Route 28

Post Office Box 113

Blue Mountain Lake, NY 12812

Tel #: (518) 352-7378
Fax #: (518) 352-7677

or email us at: