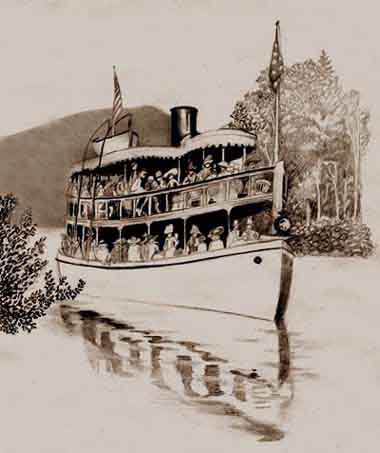 After a photograph in the collection of the Adirondack Museum.

The Tuscarora bringing guests
to and from Blue Mountain Lake.

Lured by the romance of vacationing in the heart of the primeval forest, guests of the Prospect House endured an arduous journey by boat, rail and stagecoach before arriving at this palace in the wilderness.
Among the guests were Astors, Tiffanys, Whitneys, Vanderbilts, Pierreponts, Macys, Mellons, Colgates, Lippincotts, Roosevelts, Juilliards, Clevelands, Polks, Colts, Vassars, Rothschilds, Huntingtons, Schuylers, van Rensselaers, Delafields, Biddles, Harrimans, Auchincloss's, Garrisons, Bloomingdales, Stuyvesants, Rikers, Osborns, Westinghouses, Fahnestocks, Drexels, Hirschorns, Schwabs, Guggenheimers, Woolworths, and many others.
Durant's famous uncle - whose Union Pacific Railroad united the country - not only frequented the hotel but built the Adirondack Railroad which helped bring the visitors on part of their journey.