~ REDVIEW ~
A fully winterized rustic home with large stone fireplace. On the water with incomparable views
of the lake and mountains. Two bedrooms, living room, insulated porch with two beds, full kitchen,
full bath, outdoor deck, private dock with rowboat and canoe, picnic table, grill and fire-ring, spacious yard, private driveway and parking area. Free satellite Dish Network TV, free wireless Internet.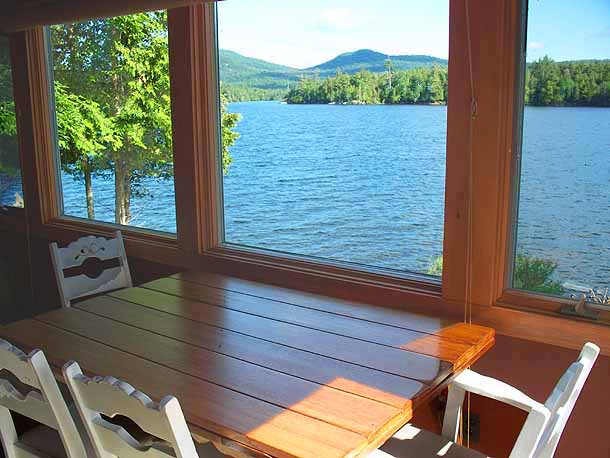 Tucked away and private, Redview has some of the most breathtaking views
on Blue Mountain Lake - or anywhere on earth. The insulated porch
is so close to the water you might think you're in a houseboat!
An outdoor deck, picnic table and grill - and all of glorious Blue Mountain Lake at your feet!

Caressing the shore, Redview is much more than a home; truly, it is a sacred space.




Country charm like Redview is hard to find, but in a setting like this, it is simply beyond words. You're most difficult decision will be whether to dine in the living room by the fire . . .




. . . or out on the porch. Or maybe on the picnic table outside. All three tables feature stunning views of the lake and mountains, so whatever you choose will feel like winning the lottery - really!






From the north wall (left), you can see
the lake and Thatcher's Island; the east bank
of windows (above) reveals the lake
and mighty Blue Mountain.




The master bedroom features a lovely queen bed, several windows, and a large closet.




Her second bedroom features two twin beds, more windows and another large closet.




Looking northwest from one of the porch's picture windows. Not surprisingly, Redview is favored by artists and photographers.




The long breathtaking shoreline leads to your own private dock, rowboat and canoe.






Even the bathroom has knotty pine walls,
and of course plenty of plush towels.




The full bath and shower (about half of which
is shown here) features sturdy handle grips.




At Redview you can't get closer
to nature without pitching a tent.




You'll have a private front row seat
every evening from Redview's dock.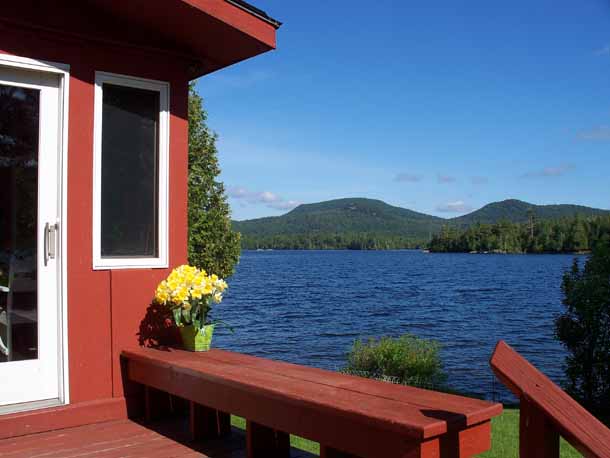 What can we say? We believe that Blue Mountain Lake is among Mother Nature's Greatest Masterpieces, and that Redview - commanding spectacular views to the east, north and south -
is among the most ideally situated dwellings ever to grace such a place.
Many guests have told us they know of no finer spot in the world.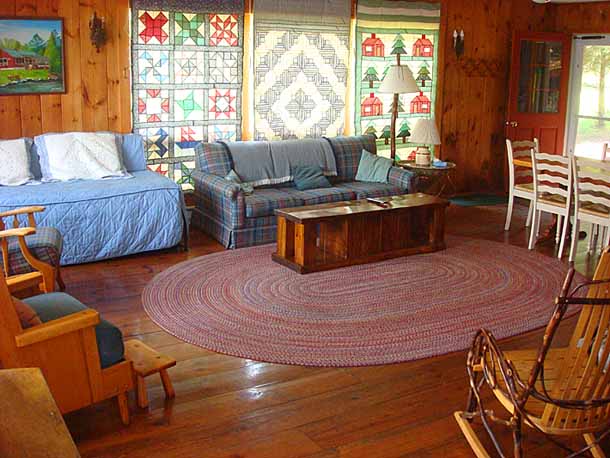 Though Redview is quite protected, when you feel like more privacy you have only to draw the shades - and gasp at the breathtaking hand-made quilts that unfurl. These are the work of famed quilter and long-time Blue Mountain Lake resident, Jacqueline Webb, whose late husband, Bob, managed Prospect Point Cottages for many years. To Bob and Jackie we will always be grateful.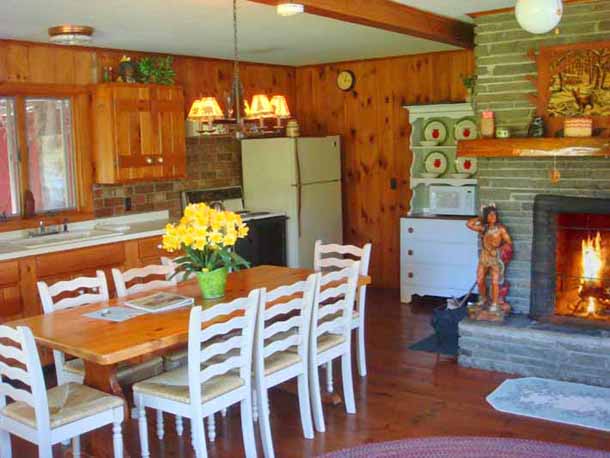 With a cheerful fire crackling beside you and the lake and mountains before your eyes, even hot dogs taste like a gourmet meal. But for those for whom cooking is an art, with Redview's full kitchen running the entire southern wall of the main room, you'll be in culinary heaven!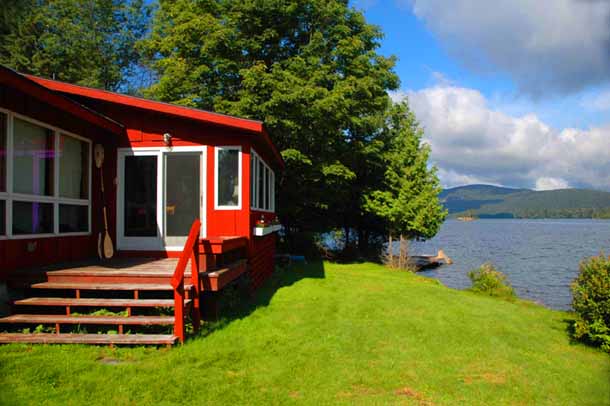 photo © 2004 by Sally Delmerico
So near the water, the gentle waves will lull you to sleep at night.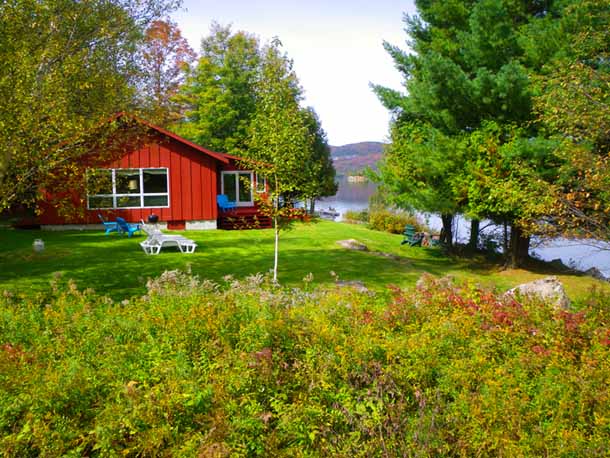 Redview itself is actually a good place to view wildlife, especially in the off-season - if you're quiet and rise early. Guests have spotted otter, fox, coyote, deer, and other animals right from Redview's picture windows, and lately, a mink who's taken up residence somewhere on Prospect Point.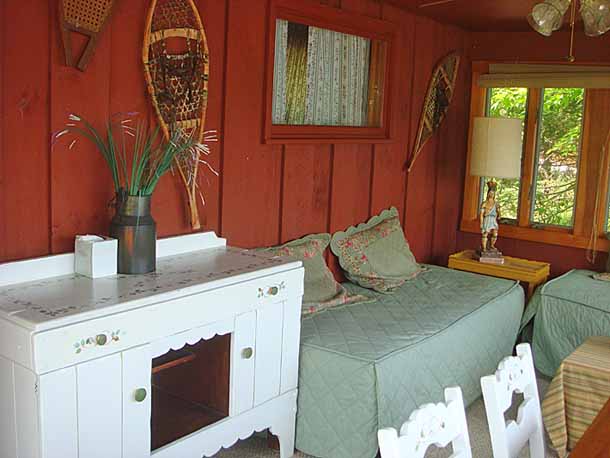 Like a private box at the opera, Redview's famous insulated porch has walls of windows
on three sides, taking full advantage of the jaw-dropping views.
A sliding glass door leads to the outdoor deck.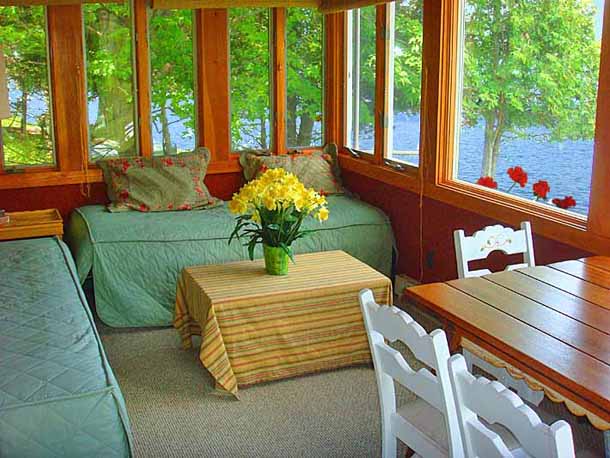 For decades this dream of a house has been the favorite retreat of Prospect Point's owners. Only in recent years, needing more space, did they mournfully decide to rent it. Mention Redview, and you'll still hear them sigh . . . And after a minute spent in this heavenly place, you'll know why.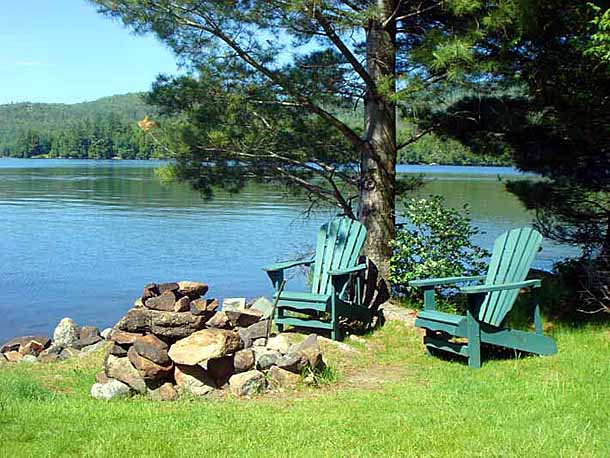 Pull up some Adirondack chairs for a blissful night around the campfire,
serenaded by loons, coyotes and brush wolves beneath a blanket of stars.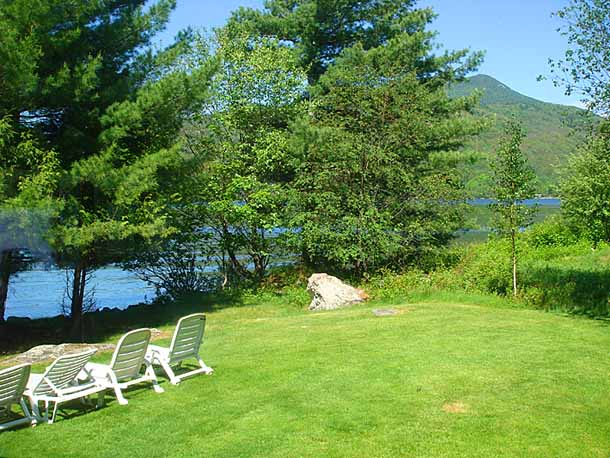 Redview is so uniquely situated you can watch the sun rise above Blue Mountain in the morning and the sun set from your porch at night! Thanks to walls of large picture windows that line the house, you'll never miss a moment. Here's the eastern view shot from the living room. It's what you'll see every morning from your breakfast table. And it's only a part of the view!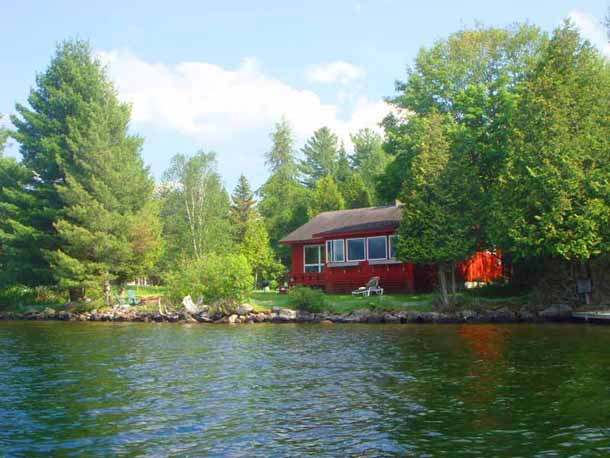 Ah the life at Gracious Glorious Redview! The absolute perfect place for fishing, swimming, canoeing and snorkeling, painting and sculpting (yup, we've had both), creating a television
script (had one of those), writing a book (had those too), or just laying out in the sun
on a comfy lounge in splendid isolation and watching the clouds roll by.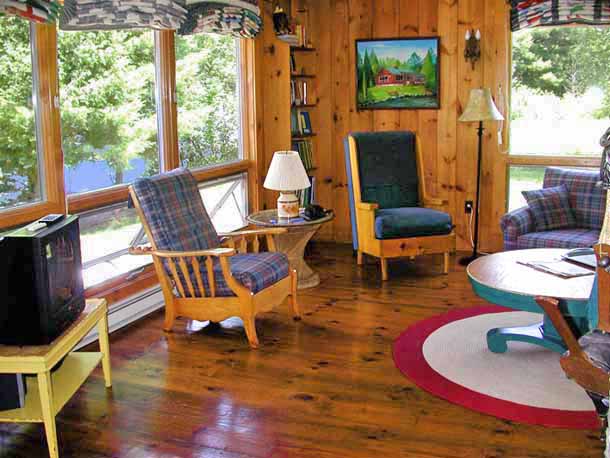 A combination of space, warmth and charm typifies Redview's rustically elegant interior.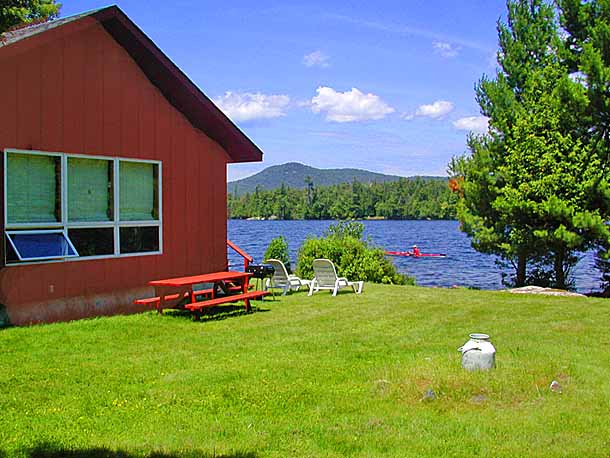 Take out a canoe, kayak, or rowboat, pack a lunch, and picnic among the many islands that dot Blue Mountain Lake. Hauntingly beautiful, the islands rise like jade sculptures from the pure azure waters. We can't think of a better place to take your loved ones or woo your sweetheart.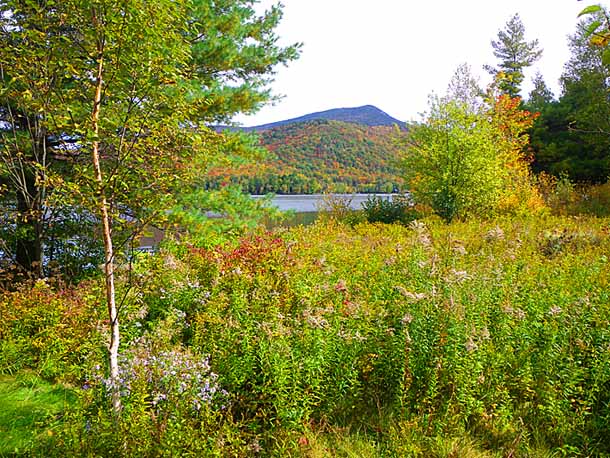 An adjacent meadow of wildflowers and blueberries attracts numerous
birds and butterflies, gracing you with nature's sweetest songs and soaring colors!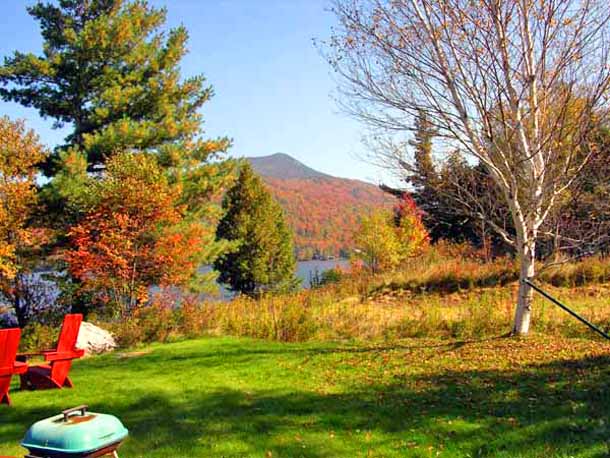 photo © 2004 by Sally Delmerico
Autumn at the Redview is truly something to celebrate.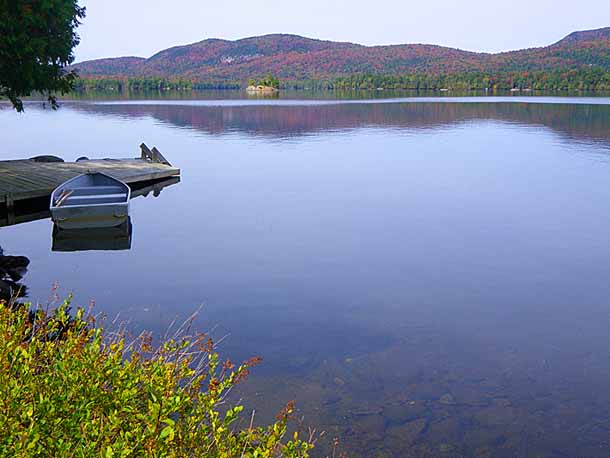 We couldn't resist another picture of the view from your dock. (Wouldn't it make a neat painting?)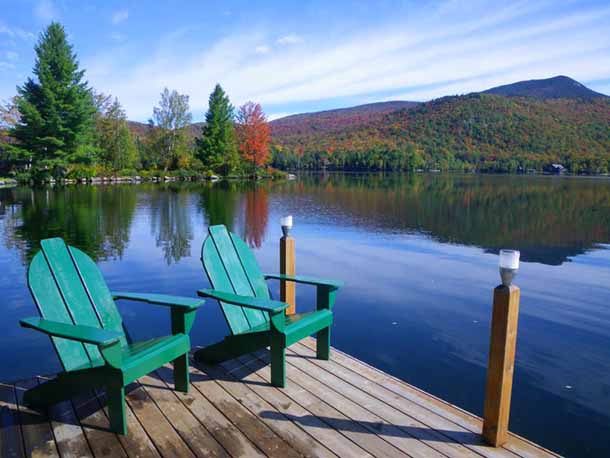 Of course, guests of the Redview have only to saunter up the hill to enjoy
all the amenities of adjacent Prospect Point Cottages - from the beach
to the Prospect Room, from badminton to brunch (in season).
Prospect Point Cottages

Route 28

Post Office Box 113

Blue Mountain Lake, NY 12812

Tel #: (518) 352-7378
Fax #: (518) 352-7677

or email us at: