The afternoon sunshine floods Hemlock
with cheer.

Rustic elegance defines her; walls of windows
take full advantage of her glorious views.




With appliances a plenty and lots of counter space, the kitchen should please even a gourmet chef.




The chandelier's on a dimmer, so you can serve up dinner with the perfect atmosphere.

In one bedroom, a luxurious
king-sized bed awaits . . .




. . . with windows overlooking a row of conifers and the blueberry field beyond.




The other bedroom features two twin beds . . .






. . . which we'd be happy to convert into a king, should you wish.




As in all our cottages at Prospect Point,
the living room couch opens into two beds.




Two skylights above the kitchen, and one
above the living room insure lots of light.




The spacious bathroom boasts
a full bath and shower . . .




. . . while a bench and plenty of plush towels
see to your every comfort.




Even the hallway feels like home!






Marshmallows, ghost stories, evening fires . . . everything a vacation in the mountains should be.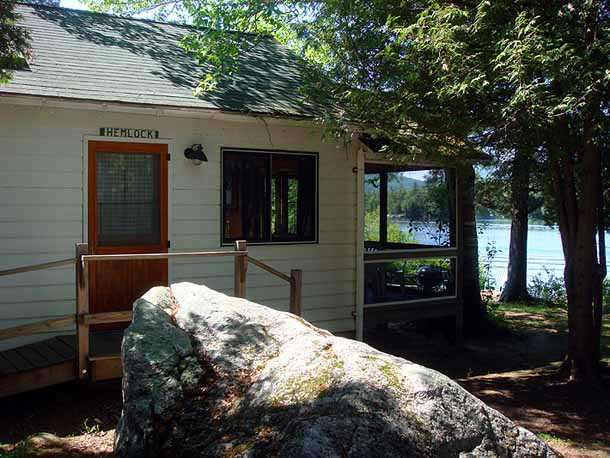 Moose Lodge alone is fully wheelchair accessible, but we've done our best during renovations to make a number of other cottages at Prospect Point - including Hemlock - as wheelchair friendly as possible. Ramps, wide hallways, and sturdy bathroom grips are all part of her beautiful design.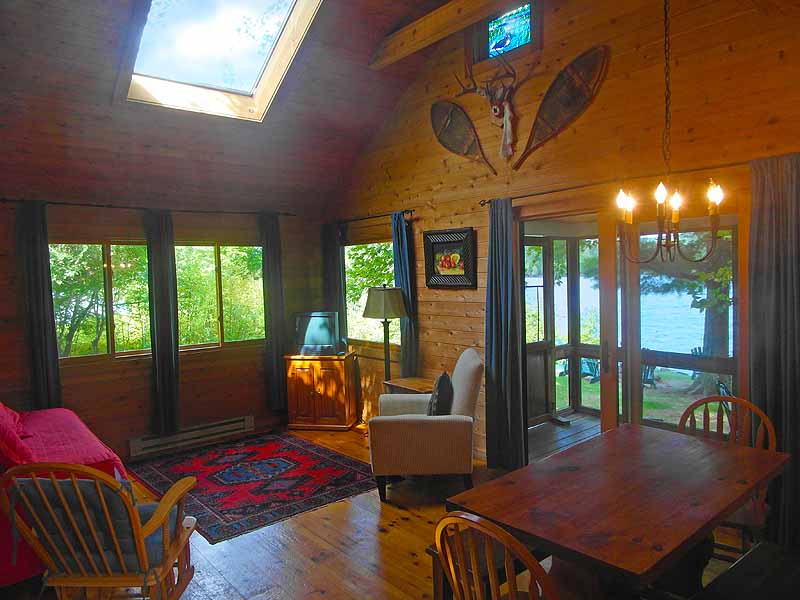 With vaulted cathedral ceilings, skylights, and cedar-panelled walls,
Hemlock is the ultimate blend of Northwoods charm and classic comfort.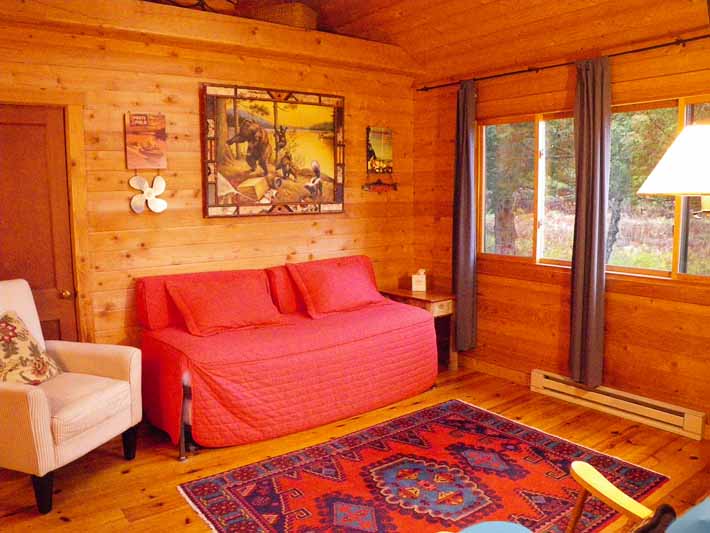 The authentic Persian carpet and hand-wrought oil paintings render the interior
of this roomy cottage almost as magical as the incomparable location . . .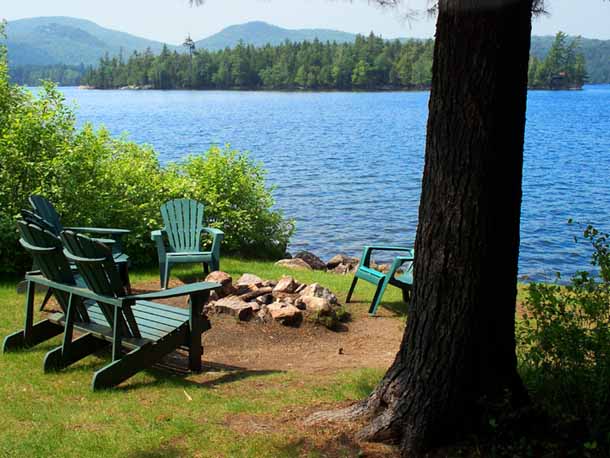 A blueberry field adjacent to Hemlock makes this cottage - and her campfire ring -
among the most secluded at Prospect Point.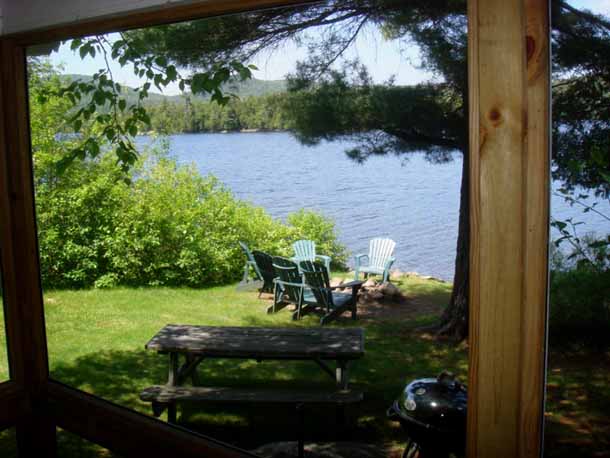 A similar view from your screened-in porch!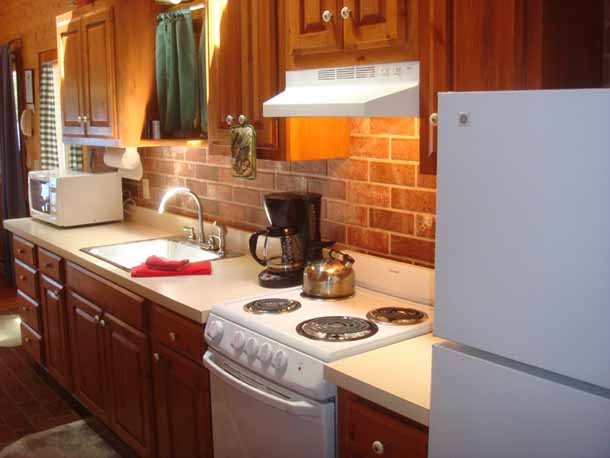 We try to supply each cottage with all the cookware and cutlery you'll need, but if there's anything further you'd like, we have a "lending library" of extra cookware guests are welcome to borrow.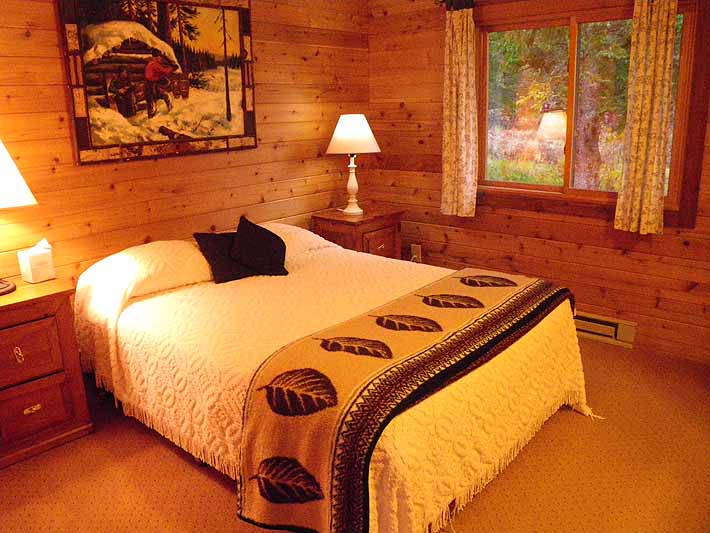 Another look at one of the bedrooms, roomy and spacious.
Not seen in this picture are the built-in dresser and closet.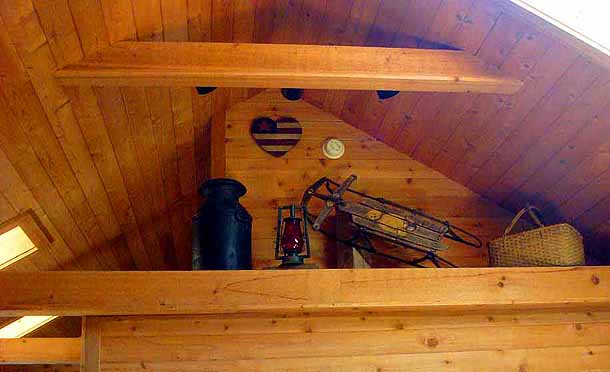 Hey we have to have a little fun during the winter, so we've taken to decorating!